Overview of Carco
MORE THAN A CENTURY OF EXPERIENCE
From leather seals for hydropower plants in the Alps back in year 1900 to today's giant seals for tunnel boring machines. CARCO is a global seal supplier covering a variety of seal profiles and materials, from fabric reinforced elastomers to thermoplastic polymers.
This is the CARCO evolution in more than a century.
Today CARCO is a Group of companies with more than 100 people in 5 Countries. Headquarter is in Basiano (Milan – Italy), with sales offices in Germany, France, USA and China. Manufacturing facilities are in Italy and USA.
Never compromising on quality, we have been manufacturing a huge number of rotary and hydraulic seals with no limit in diameter.
Each CARCO seal takes large responsibility, as we are dedicated to challenging and critical applications, there is no room for mistakes.
In 1992 CARCO was amongst the first ISO certified companies in Italy.

FAST AND EXPERTS IN WHAT WE DO
Short delivery time is part of CARCO. Large diameter seals for metal forging presses or giant wind mills are available in 1 week or less.
CARCO is application oriented: to satisfy the customer's requirements we need to know the machinery in which our seal is fitted.
Our technical department specifies the correct seal profile and material to offer the longest seal life and prevent unscheduled machine shutdown.
CARCO engineers recommend: type of seal, seal housing, lubrication, metalwork hardness and roughness, etc. – the complete project.
We can also provide FEA analysis so we can predict the behavior of the seal under certain conditions.
Our test rigs enable us to explore new projects and our laboratory can test the chemical compatibility of our materials with any fluid.
We can have CARCO staff replace seals on site, worldwide, with gluing and hot joint technologies to prevent costly machine disassembling.


FABRIC RUBBER HYDRAULIC PACKINGS FOR RECIPROCATING APPLICATIONS
SIZE
From mm 100 to mm 2500 diameter and larger, endless and split.

FRICTION
CARCO PRODUCTS ARE AVAILABLE WITH CARCOFLON SURFACE TREATMENT TO REDUCE FRICTION VALUE
PLEASE ASK FOR DETAIL


NORMAL DUTY APPLICATIONS UP TO 35 Mpa
[bscolumns class="one_half"]
hydraulic cylinders
drawback cylinders in forging and extrusion presses
billet shears
metal scrap presses
chipboard panels presses
[/bscolumns][bscolumns class="one_half_last_clear"]
ceramic presses
refractory presses
rubber moulding presses
injection moulding presses
hydropower machinery
[/bscolumns][bscolumns class="clear"][/bscolumns]
CARCOTEX/UN
CLASSIC HYDRAULIC PACKING
suitable for most normal duty applications
piston seal (CARCOTEX/UN/PIS) or rod seal (CARCOTEX/UN/ROS)
designed to be compressed axially: intermediate rings energised by green male adapter
suitable for fixed or adjustable housings, any housing height
available split or endless
CARCOTEX/SG
AUTOMATIC HYDRAULIC PACKING
applications with pressure cycles, assuring no leakage at both high and very low pressure
piston seal or rod seal (not recommended for double acting pistons)
designed to axially "float" in the housing: red male adapter is pressure responsive
usually fitted in fixed housings, any housing height
available split or endless
CARCOTEX/UG
AUTOMATIC HYDRAULIC PACKING
small housings
piston seal or rod seal
designed to axially "float" in the housing
suitable for fixed housings
available endless
CARCOFLON surface treatment on dynamic side


HEAVY DUTY APPLICATIONS UP TO 63 Mpa
forging presses
aluminium extrusion presses
forging and extrusion of other non-ferrous metals
steel mill hydraulic cylinders
Providing maximum resistance to cope with the toughest working conditions:
heavy shock loads
lateral thrust
large ram misalignment
large extrusion gaps
CARCOTEX/SP
HEAVY DUTY HYDRAULIC PACKING
anti-extrusion female adapter with Kevlar® extra reinforcement
compressed axially in the housing
suitable for adjustable housing
usually supplied in split form
CARCOTEX/SP/SG
HEAVY DUTY AUTOMATIC HYDRAULIC PACKING
a specially designed mail adapter gives excellent sensitivity even at very low pressure
leak-free performance in cases of worn rams and large misalignment
not compressed axially in the housing, it can be fitted easily without having to calculate the preload
CARCOWIP
HIGHLY EFFECTIVE SCRAPERS
recommended for abrasive dirty and dusty environment
double effect version available (CARCOWIP/2) carcoseal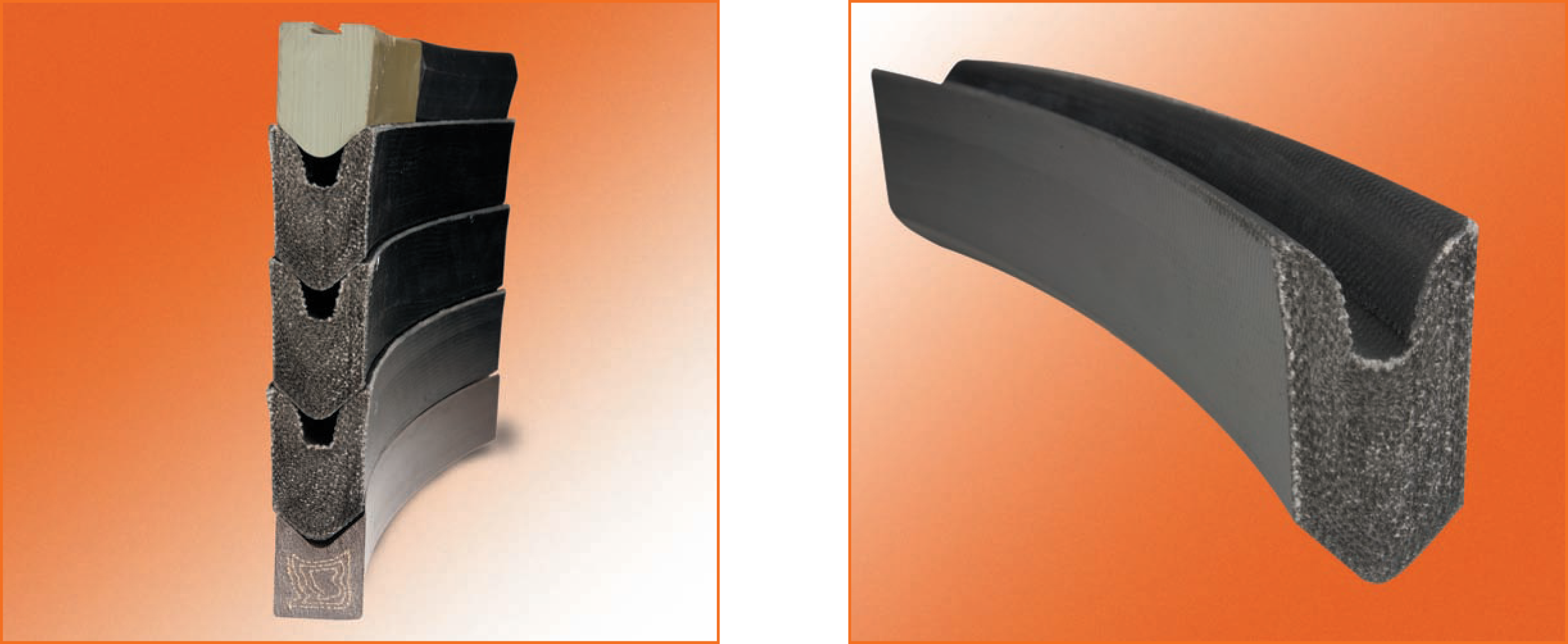 PRESSURE OIL SEALS
When pressure exceeds 0,5 bar (7 psi) on rotating applications, pressure oil seals are recommended.
MAIN APPLICATIONS
marine applications: fin stabilizers, thrusters, etc. sealing oil and seawater
pumps and mixers
cement and sugar mills
CARCOSEAL/AP
PRESSURE OIL SEAL WITH ANTI-EXTRUSION RING
lip supported by anti-extrusion PTFE ring
available in endless form
Please contact our technical dept. for details
CARCOSEAL/AP/WT
PRESSURE OIL SEAL WITHOUT ANTI-EXTRUSION RING
lip supported directly by the retaining flange
split version available to reduce maintenance time
Please contact our technical department for details
PRESSURE SEAL KIT
PRESSURE OIL SEALS FITTED IN TANDEM
separated by lantern rings
shaft wear reduction (particularly with abrasive media: sand, sugar, etc.)
excellent alternative to braided packings

TUNNEL BORING MACHINE SEAL
CARCOSEAL/TM
thick rounded seal lip
suitable for severe applications, abrasive media, slurries, etc.
max pressure: 5 bar (70 psi)
max shaft speed: 2 m/s (400 ft/min)

LARGE ECCENTRICITY SEAL
CARCOSEAL/LDS
suitable for rotating shafts with very large eccentricity
LDS is an axial seal fixed to the shaft and the lips run against the housing face
manufactured from full rubber
energised with a stainless steel garter spring
Please contact our technical department for details

CUSTOMIZED SEALING SOLUTIONS
Our technical department can design customized sealing solutions for a wide range of applications
CARCOSEAL/UN/LA Antidust lip
This design incorporates an additional lip to keep dust and water away from the main lip contact area
CARCOSEAL/UN/LL Long lip
Recommended for very large eccentricity of the shaft
CARCOSEAL/ATLMP® Anti Twist Lip
seal design developed for steel and aluminium rolling mills
preventing the lip from being damaged during roll fitting
available in UN and SCA profiles


FABRIC RUBBER OIL SEALS FOR ROTATING SHAFTS
SIZE
From mm 100 to mm 2000 diameter and larger, metric and imperial sizes.

MAIN APPLICATIONS
[bscolumns class="one_third"]
hot and cold steel rolling mills
hot and cold aluminium rolling mills
gearboxes
pulp and paper machines
[/bscolumns][bscolumns class="one_third"]
ship components: rudders, fin stabilizers, thrusters, gearboxes, steering gears
tunnel boring machines
[/bscolumns][bscolumns class="one_third_last"]
wind mills
rubber and plastic mixers
stone crushers
mechanical presses
[/bscolumns][bscolumns class="clear"][/bscolumns]
CARCOSEAL/UN
MOST POPULAR PROFILE
suitable for most applications
fitted with retaining plate
special lip design to guarantee no leakage and adequate lip lubrication
lip loaded with stainless steel garter spring
CARCOSEAL/SCA
SEAL PROFILE WITH LUBRICATION GROOVES
providing additional external lubrication
back to back fitting: 2 Carcoseal/SCA are fitted together as roll neck bearing seals in steel and aluminium rolling mills to prevent roll coolant and scale contaminating the bearing oil
tandem fitting: when optimum sealing performance is needed
CARCOSEAL/UN/SPLIT
CARCOSEAL/SCA/SPLIT
SPLIT DESIGN
short maintenance time
shaft removal not necessary
easy seal fitting
seal ends moulded purely from rubber, ensuring a leak free static seal at the joint
CARCOSEAL/UN/SF
CARCOSEAL/SCA/SF
SELF-RETAINING DESIGN
suitable for housings without retaining plates
special reinforced seal back
only available in endless form
CARCOFLON® FOR FRICTION REDUCTION
SPECIAL SURFACE TREATMENT OF SEAL LIP
friction and heat generation reduction
lip protection at machine start up and during dry running
longest service life


HIGH PERFORMANCE OIL SEALS FOR ROTATING SHAFTS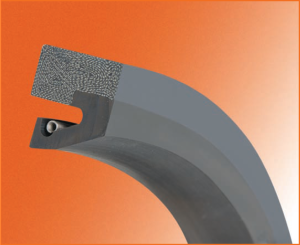 FABRIC RUBBER BACK:
EASY TO FIT
RE-USABLE AFTER DISASSEMBLING
SPLIT VERSION TO REDUCE MAINTENANCE TIME
STATIC SEAL ON THE OUTER DIAMETER PREVENTS LEAKAGE BETWEEN SEAL AND HOUSING
NO RISK OF HOUSING DAMAGE DURING SEAL FITTING
RUBBER LIP:
SPECIAL PROFILE TO GUARANTEE NO LEAKAGE AND ADEQUATE LIP LUBRICATION
STAINLESS STEEL GARTER SPRING TO KEEP THE LIP
HOMOGENEOUSLY IN CONTACT WITH THE SHAFT AT HIGH SPEED AND HIGH SHAFT ECCENTRICITY
DEEP GROOVE TO ENSURE THE SPRING IS ALWAYS IN THE CORRECT POSITION
CARCOFLON SURFACE TREATMENT TO REDUCE FRICTION


LONG LIFE HYDRAULIC PACKINGS FOR HEAVY DUTY APPLICATIONS
HIGH RESISTANCE RUBBER MALE ADAPTER;
DIFFERENT DESIGNS AVAILABLE ACCORDING TO WORKING
CONDITIONS
FABRIC RUBBER INTERMEDIATE RINGS TO GUARANTEE MAXIMUM
SERVICE LIFE AND NO LEAKAGE
THICK FABRIC RUBBER FEMALE ADAPTER WITH ADDITIONAL
KEVLAR® REINFORCEMENT TO PREVENT EXTRUSION UNDER HEAVY
SHOCK LOADS