OVERVIEW OF KROLL & ZILLER (K & Z)
The Ziller Holding Company was established in 1926 in Hilden Germany, near Dusseldorf by Dr. Hans Ziller. The holding group consists of Nilos Ring, Nilos Belting, Kroll & Ziller Gaskets and Coal Control.
Kroll & Ziller is the market leader in the Rubber – Steel Gaskets market
Kroll & Ziller flange gaskets are made of elastomer materials with a steel insert.
The K & Z Rubber–Steel flange gaskets and adjustable Wedge Rings have been proven in use over many years and in all areas of pipeline construction.
Several top steel mills, power plants, petrochemical industries, pharmaceutical industries as well as gas and water companies are long-time users of K & Z's sealing products.
K & Z is built on the following tenets:
Environmentally Safe Gaskets – approved by independent bodies.
Operating Reliability – minimizes daily problems of the maintenance staff and fitters.
Standardization – allows for a substantive reduction of variety and inventory.
Easy Handling – minimizes daily problems of the maintenance staff and fitters.
Cost Effective Logistics – minimizes problems for procurement managers and buyers.
PRODUCT OFFERINGS
G-ST and G-ST-P/S profile flange gaskets made of elastomer materials with steel insert.
G-ST Wedge Rings (infinitely variable from 0 to 8 degrees)
TEFMET PTFE flat gaskets
Kammprofile gaskets
THE KROLL & ZILLER GASKETS GUARANTEE
High efficiency due to reduced operating costs.
Reduced fugitive emissions.
Ease of installation is attributed to the rigid steel core.
The policy of Kroll-Ziller over the last 15 years has been specialization, research and development in close collaboration with a large number of customers.
COMBINATION OF FACTORS WHY KROLL & ZILLER G-ST GASKETS ARE IDEAL
Vulcanization provides an extremely good adhesion between the steel insert and the rubber sheath ensuring separations and blowouts are not possible.
Optimum handling during installation due to the rigid steel core.
Ring style gasket ensures self centering on the bolt circle.
THE NEW GENERATION OF SEALING
The O – Ring is the most static sealing element.
The performance is perfect even without a cost intensive groove.
The rigid body of the profile G-ST gaskets absorbs high surface pressures.
Offers a degree of operating reliability.
Offers advantages like wide sealing surface area and rectangular instead of round cross section near the O-Ring.
BENEFITS LINKED TO G-ST-P GASKET APPLICATIONS
Sealing under minimum bolt tightening
Compensation of surface imperfections
Flange and bolt designs can be more lightweight
Higher durability of plastic flange joints
Angle differences are more easily compensated compared to simple flat gaskets
Expensive machining of an O-ring groove on the flange is unnecessary
TYPES OF FLANGE GASKETS & USES
G-ST Flange Gaskets
Flat rubber/steel gaskets
G-ST-P/S
For various applications best suited for joints connecting non-metallic (plastics, GRP, PVC, PP< PE, PVDF, etc.) and steel flanges.
G-ST-P/KN
For various applications best suited for partially coated flanges and heavy duty services.
Also suitable for non load bearing flange joints
G-ST-P/OE
Flexible design gasket with visible stainless steel insert.
G-ST-WEDGE RINGS
Ideally suited for solving alignment problems during assembly or for filling large gaps in installation.
TEFMET GASKETS
TEFMET gaskets are made of Polytetrafluoroethylene PTFE with a perforated stainless steel insert
Have a high chemical resistance.
For pressures up to 400 psi. (25 bar)
Temperature range from 212F to 446F (100C to 230C)
Made from Dyneon TFM 1600 with AISI 304 SS (1.4301)
Resistant to nearly every media within the entire temperature range
Minimal creep and cold flow characteristic even at high pressure and temperature because of the perforated SS insert
gas tight
simple and safe assembly
blow-out safe due to SS insert
KAMMPROFILE GASKETS
Kammprofile gaskets are available in a large number of alloys and soft facing materials.
Thrust ring with kammprofile on both sides, graduation 1 mm / .04 inch with fixed centering ring and rated breaking zone. For flanges with flat or raised face.

standard design
slim design

Thrust ring with kammprofile on both sides, graduation 1 mm / .04 inch with loose centering ring. For flanges with flat face.
The separation of thrust ring and centering ring assures a high safety during operation, also under extreme conditions (no sudden breakdown caused by vibration failure or thermal stress)
Thrust ring with kammprofile on both sides,graduation 1 mm / .04 inch without centering ring.
For flanges with tongue / groove or groove / groove facings.*
KAMMPROFILE PROPERTIES AND APPLICATIONS
Excellent temperature resistance.
Usage at high pressure possible. Full utilization of bolt forces recommended.
Very good resistance against nearly all kind of media, especially against corrosives.
Heavy duty, reinforced and blow-out safe gaskets with high operation reliability.
Very low leakage rates with gases and liquids. Fulfills high sealing requirements.
No aging and embrittlement even at high temperatures.
Asbestos-free, completely harmless to health. Can be reused after re-lamination.
Very good handling at transport, installation and deinstallation. Solid state design.
No destruction through bolt overload. Marking of each gasket on centering ring.
Usage of low chloride graphite layers and adhesive allows usage in systems made of austenitic steel.
Are well established in chemical and petrochemical industries; in conventional and nuclear power plants.
KROLL & ZILLER PDF Catalog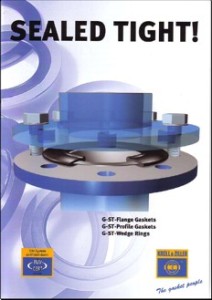 CLICK HERE to download the complete Kroll & Ziller catalog in pdf format.
Material Selections:
Kroll & Ziller's G-ST line comes in a variety of materials to suit almost any need.
FPM-S – Temp. tmax. -4 to +392 degrees F, Shore -A-hardness 80 (+/-5)
EPDM – Temp. tmax. -22 to +248 degrees F, Shore -A-hardness 70 (+/-5), FDA Approved
NBR – Temp. tmax. -13 to +158 degrees F, Shore -A-hardness 80 (+/-5), FDA Approved
HNBR – Temp. tmax. -4 to +302 degrees F, Shore -A-hardness 75 (+/-5)
CSM – Temp. tmax. -4 to +248 degrees F, Shore -A-hardness 70 (+/-5)
NR – Temp. tmax. -13 to +158 degrees F, Shore -A-hardness 60 (+/-5
IIR – Temp. tmax. -13 to +248 degrees F, Shore -A-hardness 55 (+/-5)
CR – Temp. tmax. -13 to +203 degrees F, Shore -A-hardness 63 (+/-5)